on a cloudy day....i'm free of job(s) and turn on my webcam...then came this silly thing...

h: eh coba coba pakai hatnya mulo

m: oohhh bentar aku ambil dulu
h: wowow 
h: sip
m: udah tuh hahahahahaha
h: hahhahah eyakkk..!!!! si pipinya jadi tembem
h: jadi bulet gtu kamu ca
h: buakkaka
m: hahahahahahahahahahahahaha
m: ga dipakein topi juga udah bulet tau
m: ahahahaha
h: haha gue print screenn
h: ahh
h: :)) 
h: rasainn
m: aaaahahahahahahahahahahahaha
m: sialaaaaaaan
m: huakakakakakakakakakak
m: mana sinih gw masukin blog
m: ahahahahaha
h: hahha 
h: nanti gue kasih
h: jangan kabur kamuuu
h: hey
h: heyeyyeyeee
m: hahahahahahahaha
m: ambil cemilan
m: enaaaak
h: coba senyummm yang paling manisss
m: gimana ih
m: ahahahahahahaha
h: hiahahaa
h: liat nihh
h: bentar lagi gue kirimm
m: ahahahahahahaha baiklah baiklah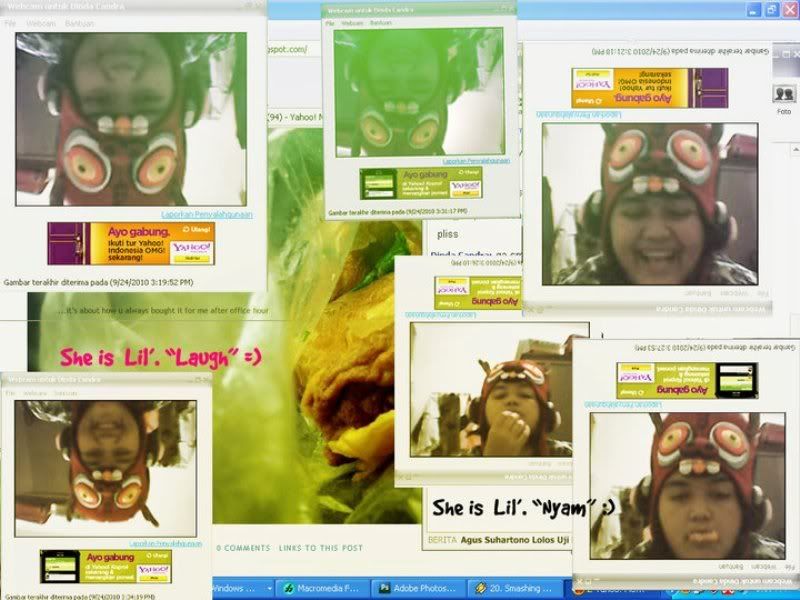 m: siALAAAAAAAAAAAANNN
m: ahahahahahahaha
h: huakakkakaa
h: :)) 
h: puas abisss
m: adoooooohhhhh
h: :)) 
m: huakakakakakakakakakakak sialan beneran
m: aaahahahahahahahahahahaha
m: huaakakakakaakakakaakakakakakakakakakakaakak
m: KEREEEEEEENNNN!!!!
m: AAAAAAAAAAHAHAHAHAAHHAHAHAHAHAHAHA
m: ahahahahahaaahahahaha sumppaaah ga brenti ktawa
m: huakakakakakakakakakak
h: hahhaa
h: dica lu pake selimut yahh

m: hah??
m: ngga
h: itu abajuu kok kayk selimut motipnyee
h: burik gtu
h: ih
h: hahah
m: huakakakakakakakakakakakakakakakakakak sialaaaaaaaaaaaaannnn
h: apa pake kulit macan 
h: ouh baju mahal yah
h: maaf
h: huahha
m: ini gambar gajah tauuuu
m: huakakakakakakakakakakak najong mahal
h: ouh gajah mana gajahnya cobaa, baerti dari tadi gue litnya gajah donk...motip semunyaa hahahhaa *piss
h: parah bangett
m: awassssss lo klo udah beli webcam
m: gw kataiiiinnn

*i always flip my view of webcam upside down hahahaha...