From all the places i've been visit around Indonesia...i really impressed with this place. AAAAHHH there's no best word to describe!
yes...it's Borobudur temple..lovely isn't it?!
The wall decorated with 2,672 relief.
Since it's an very old temple, many stone has broken and also stolen (silly) so it has to be replaced with the new one.
this is how they give a sign to a new stone..by nailing down a steel.
Last but not least....stupa. Borobudur is built as a single large stupa, consist of many tiny stupas (it still larg though hihihi)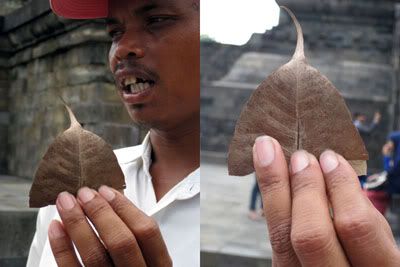 this is my personal guide at the Borobudur temple. It's a bodhi leaf that he holds. for those who read the story about Budha i'm sure u know what bodhi is. he said that if we fold this bodhi leaf like this (as picture above) we'll see a stupa..and this is where the ideas of Borobudur shape come from.
ah...i talk too much, just come by to visit it someday...AWSOME!! u wont regret anything!